Iran unveils nuclear advance amid talks
Share - WeChat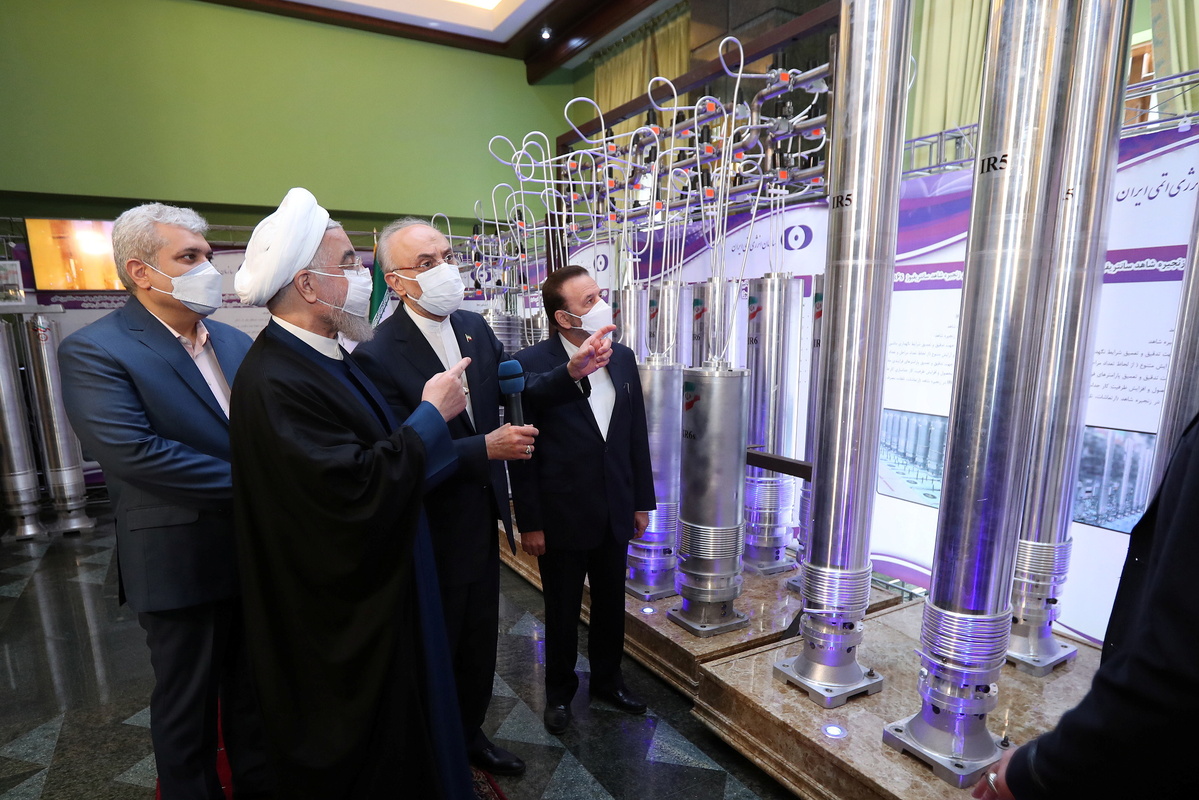 TEHERAN-Iran unveiled its newest advanced nuclear centrifuges on Saturday, showcasing its achievements ahead of a resumption of talks this week on the terms for the United States and the Islamic republic to come back into compliance with a 2015 nuclear deal.
The centrifuges were displayed on Iran's National Day of Nuclear Technology, which featured simultaneous activities in Teheran and at the country's nuclear sites.
During the event, the devices-known as 164 IR-6 semi-industrial centrifuges-were injected with gas and became fully operational at a uranium enrichment plant in Natanz, and 30 IR-6S centrifuges entered the first phase of gas injection at the same plant, the official news agency IRNA reported.
In a broadcast by state TV, Iranian President Hassan Rouhani gave the order from Teheran to introduce uranium hexafluoride gas to the cascades in Natanz, and made a short speech to defend the accomplishments of Iran's nuclear program.
Rouhani said that the US, European countries and the International Atomic Energy Agency, or IAEA, are "in debt" with Iran, since the Treaty on the Non-Proliferation of Nuclear Weapons obliges nuclear states and the IAEA to "help" signatories in their peaceful nuclear activities.
Other innovations unveiled in the exhibition included the manufacturing and assembly of the first prototype of IR-9S and IR-9-1B centrifuges, currently under mechanical testing, according to official information releases.
On Sunday, the Natanz nuclear facility suffered a problem involving its electrical distribution grid a day after starting up new advanced centrifuges, but "caused no casualties or contamination", Iranian Press TV quoted the country's Atomic Energy Organization's spokesman as saying.
Under the 2015 nuclear agreement, formally known as Joint Comprehensive Plan of Action, Iran is restricted to using a limited number of uranium enrichment centrifuges of first generation development until 2025.
The nuclear deal between Iran and world powers was paralyzed by the US withdrawing from it in 2018.
One year after the US abandoned the deal and reimposed sanctions on Iran, Teheran started reducing its compliance with the deal's terms.
US President Joe Biden has vowed to bring the US back into the deal but has disagreed with Iran over its demands that US sanctions be lifted first.
Talks in Vienna last week aimed at bringing the US back into the deal with Iran ended on Friday without any immediate signs of progress on issues dividing Washington and Teheran. However, delegates spoke of a constructive atmosphere and resolved to continue the discussions this week.
Xinhua - Agencies